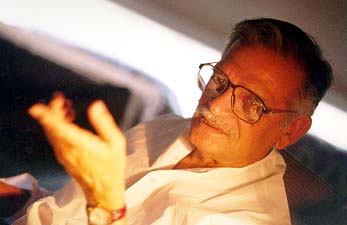 FILM music. Sometimes the distortions of lyrics made, seem amusing and there are times when they seem annoying. It is only on a few countable occasions that the music picks up the right harmony with the words of the song remaining intact. The song from Lekin-"Yaara Seeli Seeli"- was one such rare nugget. But how would it be if the lyrics were to be sung with a few suffixes of 'Ashs' and 'oohs'; grunts and moans ? How would Gulzar feel if the same lyrics were to be appropriately changed in the name of what is known as popular music ?

Gulzar refrains from hitting out at this trend. In his trademark tenderness he says. "You can't expect today's teenagers to speak chaste Urdu in typical Lucknow style in films. This is because in a film the language of the story has to be followed. After 20-25 years, Urdu has also changed. Do you see the difference between the way it is spoken in India and Pakistan ? While here we say bataiye, farmaiye they use batayen, farmayen."

But there are times when an idiom is corrupted. Then what ? Then one has to counter it. "Well, if one is part of society", he says, "One has to react. Either one changes for the better or the worse. At present, we are living in an age of tremendous mediocrity. Just see what kind of songs have become hits-Papa kehte hain bada naam karega, or main mummy se pooch ke batata hun or some other things on the same lines. I don't blame a single person for that. It's only a product of the times we live in. Take for instance our political leadership, our social structure."

Quite true. But one cannot justify everything that is happening with this kind of reasoning. There are times when situations cross the limits to reach such a point when it becomes difficult to accept things as they are. How can one explain the strange phenomenon of a film, such as Lekin, penned and produced by Lata Mangeshkar and Gulzar, struggling to get a release date when at the same time a commercial filmmaker like Manmohan Desai declares that it was not possible for him to produce movies in present conditions ?

Gulzar objects to this : "I don't think it is proper to label Manmohan Desai as a formula or commercial producer. He has achieved a very important place in our film world and there is very little vulgarity in his films. Desai's films have a child-like innocence, which I value a lot. He takes us into a land of fantasy and exaggeration as in grandmother's tales.

And then Gulzar transforms to narrate in his vivid style : "My dadima would tell me : 'And there was a horse, it ran and galloped and went across seven villages in a jiffy...it leapt across seven seas..."

"Now if Desai thinks," he comes back to his earlier poise, "the circumstances in the industry don't suit him, well, it is his own decision and he is entitled to take it. "There can be better film makers than him," he says and that their audiences are even smaller than for his films. Why ? Because according to him, Every medium finds its own audience. On my level there may be fewer spectators. You can't apply the same scale to everything, as entertainment is a field which has its own aesthetics and values."

He supplies examples to support his statement : "Now you can't ask Pandit Bhimsent Joshi as to why he doesn't sing like Kishore Kumar or a modem crooner about not singing like Panditji. That much difference will always be there between a Picasso and a pavement calender. If you want to make a calendar painting out of a Picasso, well, nobody can do anything about it."

One of the distinct features of Gulzar's films has been his choice of actors who have not been great performers by any standards-Jeetendra, Vinod Khanna, Dimple, Hema. There has to be some reason behind this. And there is one. Had he not been introduce to the writings of Premchand and Saratchandra he would have possibly restricted his creativity to Sultana Daku or Behram ka Chura". "Similarly", he feels, "all diese artists were looking for an inner self and I recognised that. In any case, Jeetendra was even the producer of a few films, which is proof enough that he wanted to play this role inside".

After a long pause he says, "Few people have bothered to understand and know the real Vinod Khanna. It's no mean achievement to renounce everything when you're at the peak of your career, when you have name, fame and wealth-and feel contended by reducing yourself to just a rosary in a godman's hands. When the announced his decision to quite, people around him tried to tempt him 'you can reach No. 1 position.' He replied 'I don't have that kind of ambition.' Then people asked him, 'Are you sure that you wouldn't come back to the fold ?' He simply said, "Why should you bother about that ? I am not worried as to what will become of me !' He has that kind of independence. No one would be so daring even in society, let alone the film industry. I have great regard for this. When he was playing Raja Bhoj's character Vinod Khanna said to me, I can understand meera's feelings, for I have also passed through that stage in life."

Costumes count a lot in bringing about the desired effect. Or do they ? Kurta, specs and mostache-Gulzar made Jeeetendra wear all of them so that he (Jeetendra) looked very much like Gulzar. What was the need for raising such allegations against oneself ? Gulzar realities : "Of course, the comments are frivolous. As the background of the story was set in Bengal, we had to alienate Jeetendra from his popular image Initially, he was nervous about the new look. I begin to see a character's behaviour, manners and even appearance when I pen a story. In 'Libaas' an incident took place with Naseeruddin. He asked me 'Why are you giving me this moustache ?' I replied, 'I think they suit the mood of the character. You just try them. Later, he accepted that they contributed a lot in making the character life-like."

When every aspect of life is depicted in his poems, screenplays, films-then politics may not have been let out. Does politics come in his poetry and films and what is his reaction to the present-day politics ? Yes, Gulzar made Andhi, a political film when "politics was taboo on the screen. Then New Delhi Times was penned by me. There are political comments in my poems too but they are yet to be published." One random diary note goes like this.

Phir se banto tash ke patte
Phir se cut for seat karo
Rummy ka khel chala hai
Parliament casion mein.

He quotes one of Firaque's couplet in which a father, on being asked by his daughter to buy her a frock, says that he weill have to wait for the year's budget and see. And he has been inspired to write a sher that reads :

Ek dafa to koi aisa budget banale
hum bhi rail mein baithkar ma-baap se mil aayen...
HE DOES'T FIND the need to be bitter because a reaction is only like a cartoon. "Look at it from this angle," he says, "I think R. K. Laxman should be the greatest of all poets. We get a poem from him everyday."

No politics, no bitterness. He might be doing something similar to Laxman-a poem a day that is. If not, what does he do on those days, , "just relaxing. Writing a lot of children's stories.
Poetry, of course He reads from Nobel lauretes to the other contemporary writers., " Anything I can lay my hands on. Space interests me-how charming and fascinating it is to know the world of stars and reach out to them. "

That leads us to another curiosity. Would he like to meet other space-beings in the capacity of a scientist or a poet ? He has an answer penned down for this. A poem called Pioneer-10 :

"Shayar insani Khayalon se bh to aise he tasweeren leta hain
Bepanah zinda murda taare
Bepanah Zinda murda chand."
Space and this cosmic world; the inner self and this life. How does Gulzar pass through the spells of life ? "Like an incense stick," he says "You should spread fragrance even if you are smouldering inside. However, one can't say off-hand about what one could do in particular spells. That raises the possibility of another Gulzar-one we don't know. Our speculation ends when he says : "Every human personality has many faces. There are compartments which open or close. Like when you turn the lights on or off, only a particular area is lit of drowned in darkness.